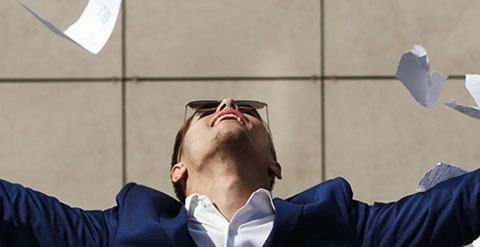 A model that actually makes sense.
Doing What We Say And Saying What We Mean.
When we say we're committed to your best interests – to serving you, not some insurance company or stockbroker – we mean it.
When we say we hate commissions and high-pressure sales tactics – WE MEAN IT.
Let's break it down.
"Fee-only" and "fiduciary" are the two most important of the ten questions you should ask every "financial advisor." We wouldn't let our mothers work with an "advisor" who isn't a fee-only fiduciary, and neither should you!
Fee-Only means that we get paid by you – and only you. It means we don't accept commissions from anyone, at any time, for any reason. As such, the advice we give isn't tainted by outside influences.
In order to confuse consumers, the financial services industry invented the term "fee-based," which actually means "fee plus commission." And if you ever meet an "advisor" that claims to "work for free" – don't walk, RUN!
Remember: Only fee-only. ONLY.
Fiduciary means we're required by law to act in your best interest. Although every "advisor" claims they will act in your best interest, not all are required to.
Stockbrokers, insurance salespeople, and countless other "advisors" are NOT fiduciaries. They're free to sell you high-fee, high-commission products when something cheaper (or nothing at all!) would be in your best interest.
You should require a signed fiduciary oath from anyone claiming to give you financial advice. We post one publicly, and sign a copy within every client agreement.
Unfortunately, we've heard of salespeople claiming to be fee-only and/or fiduciaries when they're not.
For detailed instructions on how to verify these claims, download our free guide:
10 Questions You Should Ask

Every "Financial Advisor"

Not sure who to trust? We get it. There are plenty of great advisors out there – and just as many wolves in sheep's clothing. Let us pull back the curtain and reveal the best way to screen a financial advisor.
Email Address ( 10 Questions You Should Ask…)
We hate SPAM as much as you do. We won't share or sell your email, and our unsubscribe link *actually* works!
Pricing
Industry goliaths have worked hard over the years to obfuscate their compensation, conceal their conflicts of interest, and confuse the public about investments, insurance, and retirement planning.
We at Downshift Financial believe that you deserve transparency, simplicity, and fiduciary duty. That's why our services are only offered flat rate and commission free.
$2,000 per quarter flat fee.
How much does our flat fee save you?
 Move the slider closest to your total investments to update the chart below.
Commissioned Salesperson
"Fee-Based" Advisor
1
[1] "Fee-based" actually means "fee plus commission." The term "fee-based" was invented by the financial services industry with the intent to confuse consumers around the subject of fees and commissions.
Downshift Financial
Transparent Compensation
✘
?
✓
Sources of Compensation
Commissions paid by third parties.
Fee as a percentage of your investments + commissions paid by third parties.
Flat fee-only
Fees You Pay (Quarterly)
2
[2] Insurance products of all kinds include many fees which vary widely by company and product and tend to be buried in tiny type, so we have given commissioned salespeople a red question mark here. For "fee-based" advisors, we've assumed a fee of 1% of assets under management per year. Asset-based fees like the typical 1% grow in actual dollar terms very quickly, resulting in significant drag on portfolio growth. For an illustration, click here.
?
Fiduciary Duty
3
[3] Commissioned salespeople never have a fiduciary duty to you. In fact, in some cases a commissioned salesperson may have a fiduciary duty to the third party paying their commissions! "Fee-based" advisors could be fiduciaries only on certain accounts, or fiduciaries at all times depending upon their registrations and your client agreement. We give "fee-based" advisors the benefit of the doubt here.
?
✓
✓
Low Cost, Tax Efficient, Passive Index Investing
✘
?
✓
Course Check Calendar
4
[4] Some "fee-based" advisors maintain and follow a client service calendar, but many do not. Therefore, we have given them a neutral black question mark.
✘
?
✓
Tax Prep Included
5
[5] Downshift Financial includes annual tax prep and filing for federal and state personal returns (Form 1040) at no extra charge to clients. Third party CPAs and/or EAs are hired and paid by Downshift Financial for this service. Limitations apply.
✘
?
✓
Estate Planning Included
6
[6] Downshift Financial does not offer legal advice or practice law. We are not attorneys. We always recommend clients consult with a qualified attorney to draft, update, or complete their estate plans. Clients must hire and pay estate planners directly. Downshift Financial will discount future fee payments to offset client's cost subject to limitations. If clients do not already have an attorney, Downshift Financial may refer clients to a third-party estate planning firm. We are not affiliated with, do not receive compensation from, and do not share in the fees paid to any third party estate planning firm.
✘
?
✓
Tax Minimization Planning
✘
?
✓
Retirement, Semi-Retirement, & Social Security Analysis
✘
✓
✓
Charitable Giving & QCD Planning
✘
?
✓
Life & Disability Insurance Reviews
7
[7] Commissioned insurance salespeople are always happy to review your life and disability insurance situation (and recommend buying more, of course!). Therefore, we have given them a red check mark for Life and Disability Insurance Reviews. Similarly, "fee-based" advisors receive commissions on the sale of insurance products. Many "fee-based" advisors do make truly best-interest recommendations to their clients, however incentives matter – the presence of third party commissions surely skews "fee-based" advisors in the aggregate to recommend more insurance than compared to fee-only advisors who are not influenced by outside commissions. Therefore, we have given them a neutral black check mark for Life and Disability Insurance Reviews.
✓
✓
✓
Property & Casualty Insurance Reviews
?
?
✓
Debt & Refinance Analysis
✘
?
✓
Cyber Security & Identity Theft Coaching
✘
✘
✓